Mobile internet has experienced these last 5 years a tremendous growth, in fact you might be reading this blog post from a mobile device just this moment, therefore WordPress Theme Developers have adopted a new UI technology called Responsive Theme Development.
Responsive Themes will make your website readable from all kind of devices, desktop pc's, laptops, ideapads, tablets, iphones and android devices all at once without requiring you or the visitor to adjust any settings in order to access your website.
Below I'm listing a selection of WordPress Responsive Themes that are suitable for blogging.
Top 15 Responsive WordPress Themes for 2013
If you are looking for a stylish and responsive magazine theme for your WordPress site, the Drive theme by Vergo is a great choice.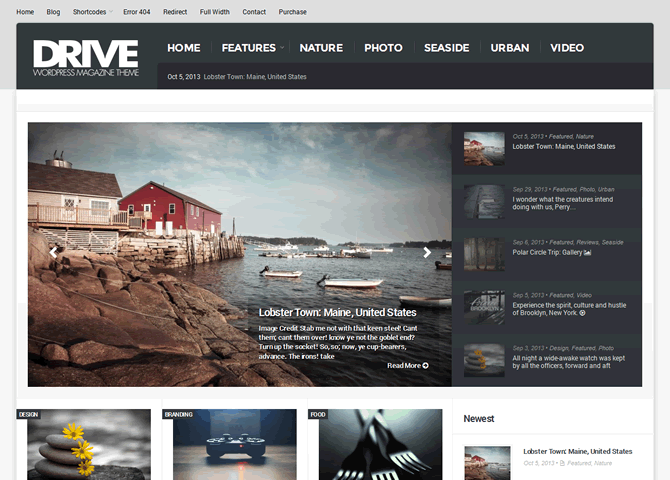 This theme is as brilliant for small blogs as it is for larger content-driven sites and offers a host of features that are designed to provide a flexible and easy-to-use homepage. If you regularly update your site with content, features such as the built-in rating system, Sequence slider, and responsive settings will provide you with an exciting website across all viewing platforms.
Drive is also highly customizable, with options including:
Unlimited color schemes
Two custom menus
Shortcode generator
Blog template
Unlimited dynamic featured sections in Sidebars and Footer
Top Carousel
Jetpack support
Everything comes ready for the latest WordPress installation and the whole interface is slick and simple. While this theme will only be suited to WordPress uses that publish content daily, for those that it does appeal to, Drive is one of the best themes on the market.
Raiden is a personal blogging WordPress theme with a responsive design.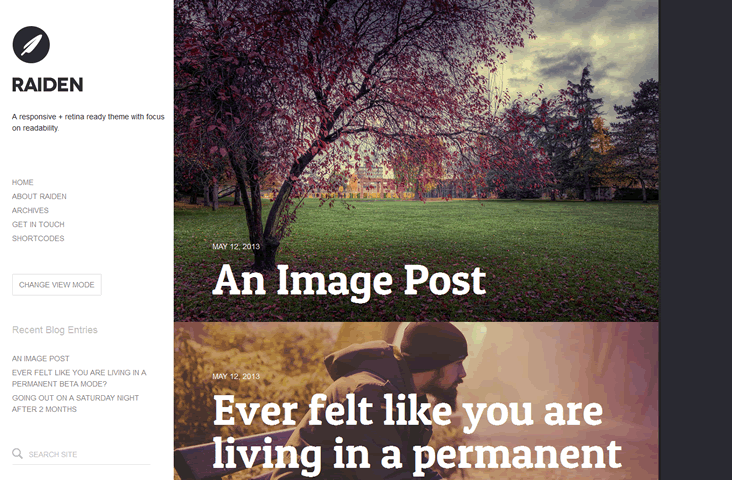 Of course, theme directories are full of such themes, so what makes this one any better? Well, the list of features for a start:
Option view mode for day/night reading
Full WordPress post format support
Built-in SEO support
Custom widgets
Retina display
Google Web Fonts
Built-in shortcode generator
Full localisation support
Raiden also happens to be one of the most flexible and easy-to-use themes currently on the market, with extensive documentation (online and offline), ensuring your blog is the very best it can be.
Whatever type of content you provide, Raiden is a theme worthy of showcasing it.
Designed by ThemeVan, OldCar is a blog and grid theme with a vast range of options to help you create a unique blogging site.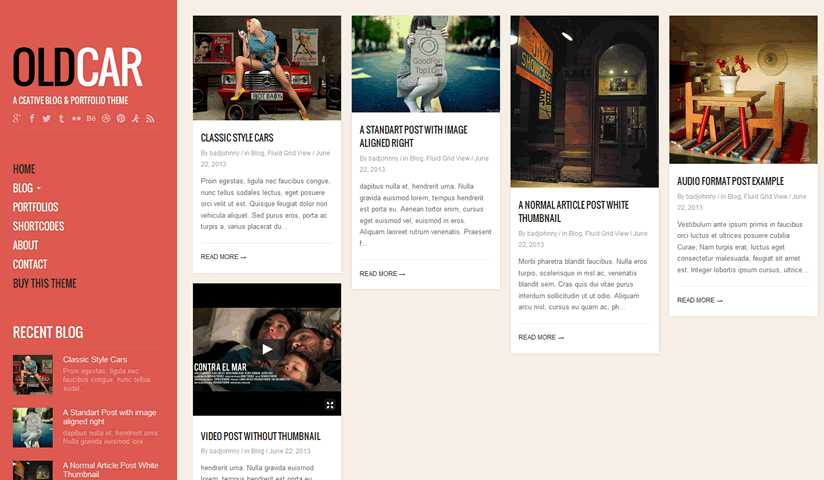 This theme is cross browser compatible and fully responsive, providing beautiful visuals across all platforms. Colour and style custom options are easy to use, making it simple to customise the theme according to suit your requirements.
Standout features include:
Five post formats including Tumblr style
Custom widgets
Shortcode support
Translation support
Retina ready
Google webfont integration
OldCar's reliance on visuals means your content should be focussed on images to get the most out of the theme. If that is the case, this theme will offer you a fun and different vibe for your blog.
With over 72 million WordPress blogs in the world, standing out from the crowd is going to take something special – responsive theme GoodInc aims to provide you with a platform that separates you from the average blogger.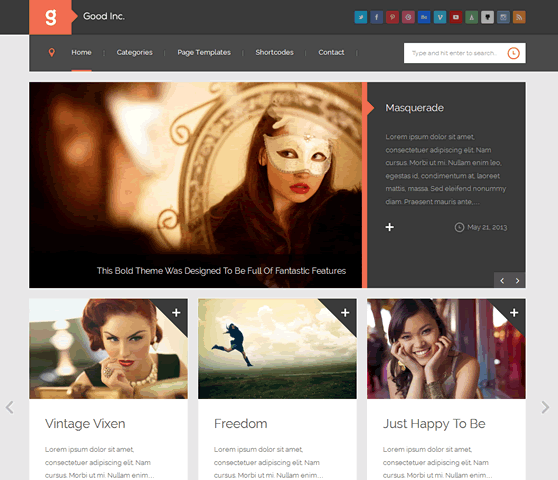 GoodInc is designed for blogs and news sites, and is all about making your content look awesome. Nothing about this theme is boring – there is a homepage slider, author templates, infinite scroll, and the option to set layout by post. The whole theme has also been built with speed very much in mind, for you and the user.
With such a vast feature set, GoodInc might be a little advanced for some novice WordPress users; but, if you're looking to get ahead as a blogger, this theme is definitely one you should consider.
BlogTime is a high-resolution WordPress theme that oozes style on every browser.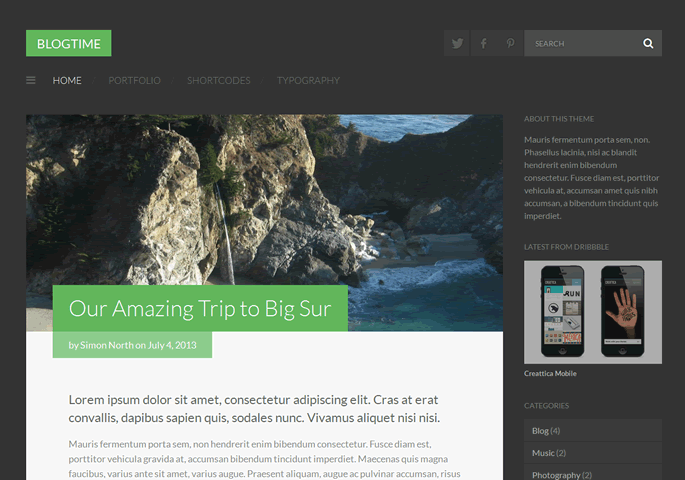 The responsive design makes sure your content looks sharp on any size screen and the interface has been specifically developed to make the blogging process simple.
Despite what the name suggests, BlogTime is not solely a theme for bloggers, it also comes with a portfolio section for showcasing you or your business.
Other features include:
Shortcodes support
Widget ready
Full width design
No bloated code
Full post format support
BlogTime is simple, minimalistic, and built to impress. If you run a business or publish a regular blog, this theme will serve you well.
Bliss, a responsive theme for WordPress, comes with the tagline "Simplicity is bliss" – a line that it really lives up to.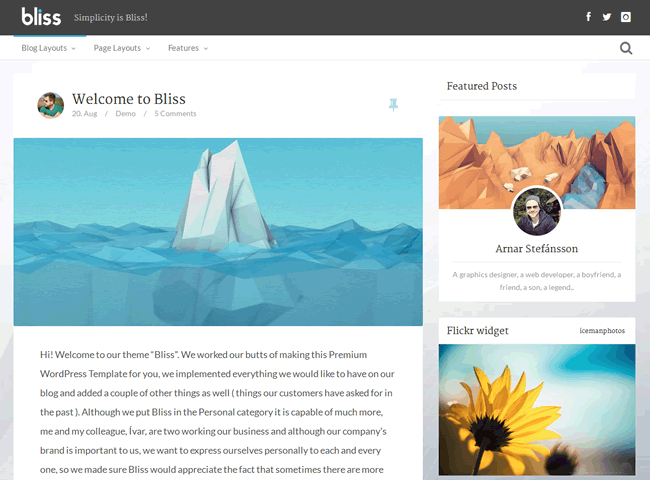 Bliss has been designed to make the blogging process as simple as possible across both desktops and mobile devices, and achieves this by offering brilliant visuals and a seamless operation. The theme is compatible with the latest version of WordPress and packed with various features, including:
600+ Google fonts
Cross browser compatibility
250+ Fontello icons
Custom bootstraps shortcodes plugin
10 custom widgets
Unlimited colour variations
Developers BlueThemes also offer excellent social media integration and full customer support with every purchase. If your blog is in need of a facelift, this theme is bliss – literally!
If you're familiar with the WordPress CMS from years gone by, Atlantica might be a theme that you recognise.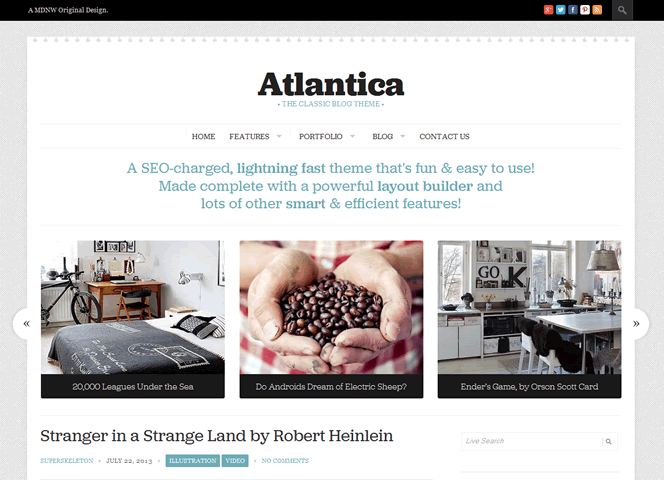 This theme was one of ThemeForest's most popular in the early days and now it's back – bigger and better than ever.
Based on developer MDNW's Super Skeleton 2 framework, Atlantica offers the same minimalistic design of old with features to suit the needs of the modern blogger. MDNW call this theme "quite simply, this is the best, easiest, most flexible theme that we have ever created" and it's easy to see why. Everything about this theme is excellent, from the professional skin creator with its drag and drop builder and unlimited colours, to the advanced responsive design that allows the theme to scale intelligently to any device.
Atlantica is packed full of features that some other themes could only dream of and these are all to your benefit:
SEO ready
2D/3D effects
In-Dash, context-appropriate documentation
650+ fonts
Visual shortcodes
Get this theme and you will be eligible for free lifetime support and updates from the developer and, if that's not enough, the developers have also promised shopping/e-commerce support in the near future!
Blogging is at its best when it is simplistic for the both blogger and reader – Keilir is a WordPress theme with simplicity at its core.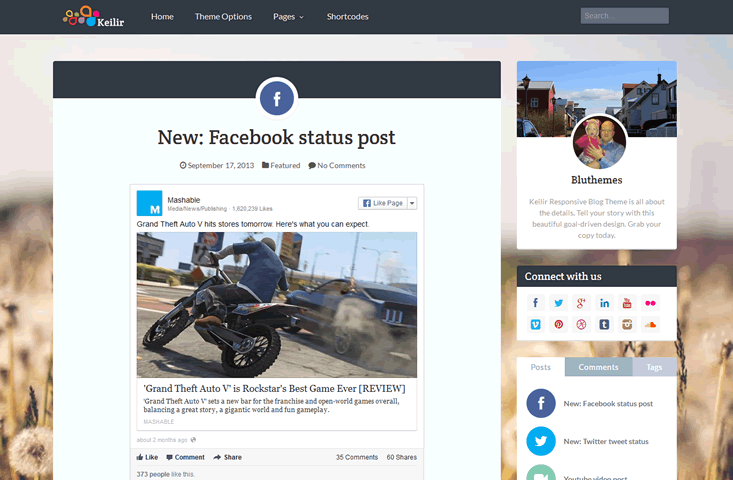 The responsive theme by BlueThemes is designed for WordPress 3.5 and above, providing excellent visual support to ensure your website is slick and sharp on any size screen.
Keilir is all about reaching your reader across all platforms and it makes this possible by offering a vast range of features, including:
6 custom widgets
6 blog formats (Standard, Audio, Video, Quote, Image and Link)
8 Bootstrap shortcodes
250+ Fontello icons
Unlimited colour customisation
Translation support
In addition to the features, the developer also provides brilliant customer support to help you out should you ever run into any trouble while using the theme. However, such is Keilir's ease of use, you'll probably never have a need for troubleshooting.
There are thousands of WordPress themes out there, catering to almost every purpose – Milli is one that sticks to the basics, offering a simple personal blogging experience.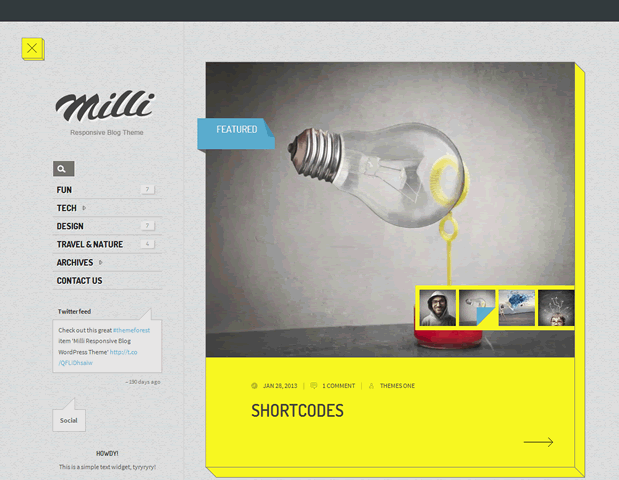 As is common with most modern WP themes, Milli is a responsive theme, working well on all viewing screens and helped greatly by its full width layout. It is also compatible with all major web browsers, which will help you maximise your audience. Despite its obvious visual simplicity, Milli is packed with a range of features that will help you customise your blog according to your preferences.
These include:
6 custom post formats
Multiple slider effects
Dropdown menus
Changeable theme colours
Notification bar
Social and share icons, including a custom Twitter widget
Another feature worthy of special mention is the as-standard contact form and Google Map – this will be very useful if you are interested in appealing to a local audience.
If you are looking to provide a news service or are working in e-commerce, Milli probably will not be suitable; however, for a personal, portfolio-style blog, there are few themes better.
Basic is a WordPress theme that does exactly what it says on the tin – no fancy fonts or colour schemes, just a simple, clean interface that allows the reader to enjoy content with no distractions.
If you a dedicated blogger that spends time crafting long and detailed posts, Basic is the ideal blog to showcase your talents. The theme is fully responsive and its design means that it looks good on any reading device and on any browser.
If you like tinkering around with the design of your themes, basic may prove a little limited. That is not to say there aren't any features at all (post formats, a Twitter widget, and valid HTML5 and CSS3 are all very useful), it's just that this is a theme focussed solely on the content – a job that it does very well indeed.
Thumb is a retina-ready and fully responsive WordPress theme that is tailor made for the advanced blogger.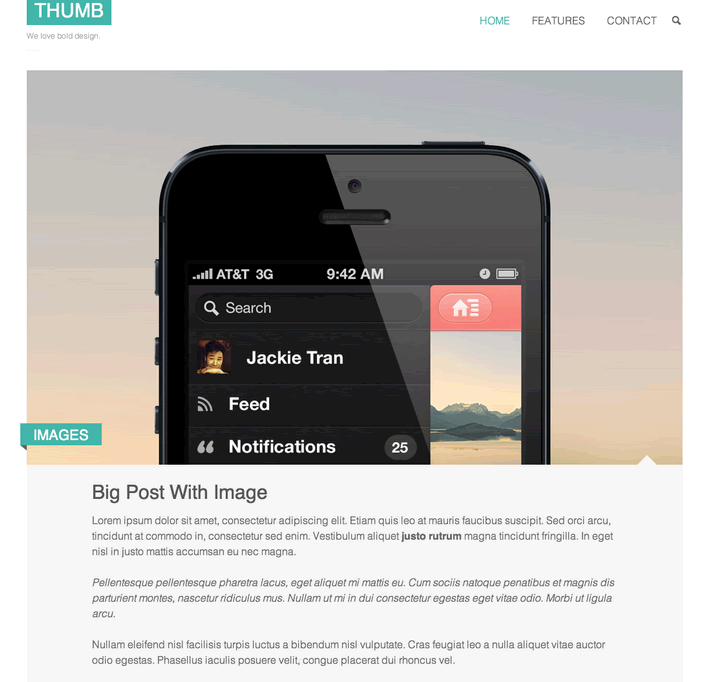 The range of features is vast:
Nine post types
Unlimited colour types
600+ Google fonts
QR code
Custom admin panel
Animated sidebar and footer
If you buy the theme, the developers also throw in a visual composer, which will allow you to really customise your blog.
Thumb has been designed for rapid install, with complete documentation and clear instructions. The focus that the developer has placed on design and usability makes this a great choice for bloggers in every niche.
Captain is a WordPress theme that describes itself as being "brave and invigorating" and it really lives up to its billing.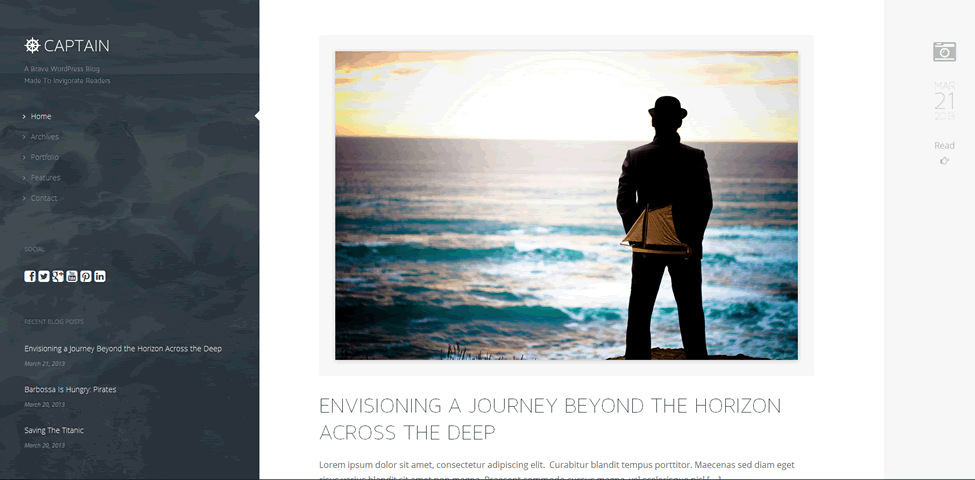 This theme is made for bloggers that look to all types of content to engage with readers, and provides a platform for you to show off text, images, videos, audio, galleries and much more. The retina-ready responsive layout has been developed to make your content sharp and easily viewable on all devices and your content will display effortlessly on any web browser.
In terms of features, Captain is not as heavily stacked as some themes out there; however, there is enough to allow full customization of your blog, including:
6 post formats
Google fonts
Localization support
HTML5 and CSS3 Valid
PSD file
Captain also comes with excellent documentation, which will help ensure you get the most out of your theme. If you're in the business of providing content, this theme could well be for you.
If you want people to focus on the content of your blog, it's best to keep the fancy add-ons to a minimum when choosing a theme.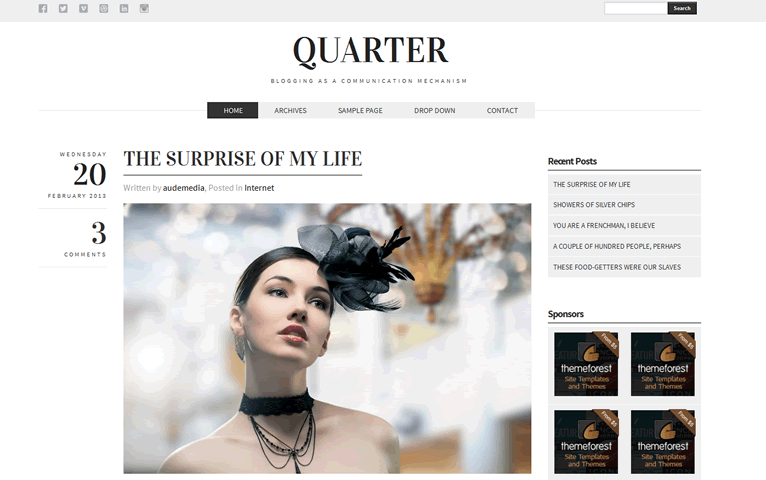 With Quarter, you get a theme that is minimalistic by design and built to allow readers to view your content without distraction. While it looks basic though, Quarter still has a number of features that ensure it appeals to the modern blogger, such as:
6 post formats
Widget ready
Localisation ready
Google web fonts
Flexslider
Fancybox 2 integration
As is now standard with most themes, Quarter is also cross browser compatible and fully responsive. If you like a simple blogging experience, Quarter will serve you well.
WordPress themes have become much more advanced in recent years and many now focus on the visual aspects of a site.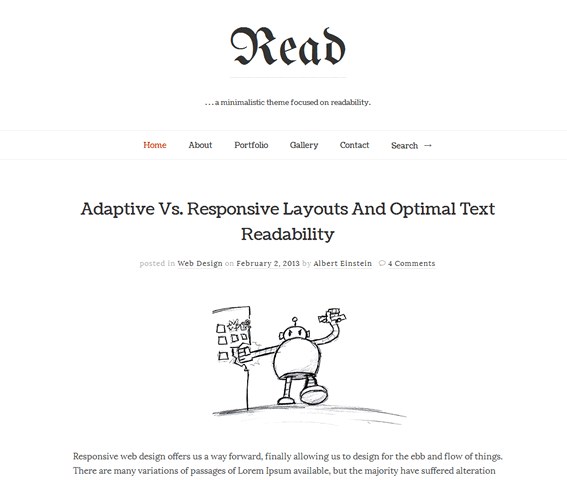 Sometimes, though, it's nice just to stick to the basics – black text on a white background; this is what Read WP does.
The minimalistic design of this theme ensures that focus is always on readability. However, while it looks as basic as you can possibly get, Read WP has a surprisingly vast range of features, including:
Over 20 social media icons
3 Blog Layouts
SEO ready
Responsive design
600+ Google fonts
Extensive documentation
Cross browser compatibility
Full post format support
Theme customizer support
Some people may find the design of this theme limited, due to the fact that it does not support e-commerce and features no slider, but if publishing regular content is your thing, you'll be happy with Read WP.
Successful blogging relies a lot on readability and Bloggy WP theme developer Pixelwars clearly realises this fact having created their theme with heavy focus on minimalism.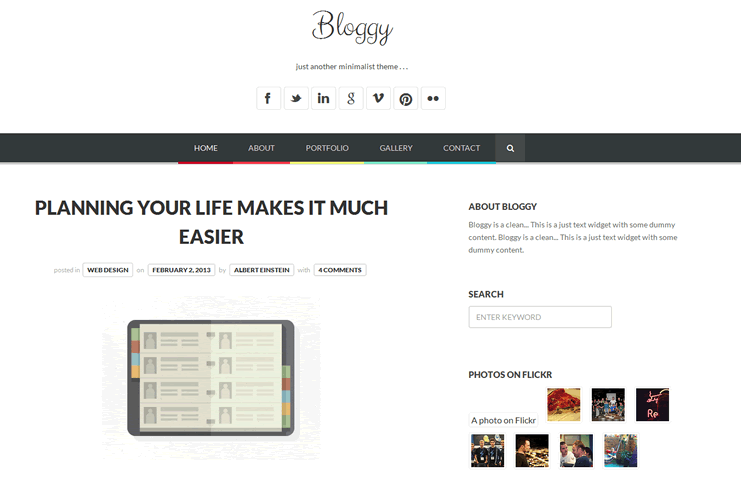 Bloggy WP is all about making the reading experience as enjoyable as possible for the reader on both desktop and mobile. While this theme offers a minimalist design, it is by no means lacking in the feature department, offering numerous options for creating a unique website, including:
Over 600 Google fonts
Unlimited sidebars
Over 20 social media icons
Shortcode generator
Responsive video embed
Unlimited portfolios
Bloggy WP is also SEO-ready out of the box for excellent search engine performance, making it a great theme for the serious blogger.