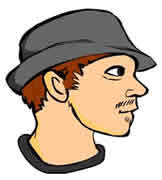 Makis.TV is all about online investing and making a good profit out of it. If you want to make million of $'s out of blogging or niche website development then I can promise you its not gonna happen so easy.
No one reached that milestone and made it within 1-2 months or even 1-2 years of blogging and probably neither will you.
That said I know that we are all seeking advices from "guru's" hoping that we are going to be like them as fast as possible, 99% of these cases fail miserably mostly because people get frustrated and give up in the end before making even $10 profit.
Its not that easy starting a blog and at the same time trying to read a zillion of other blogs since each of these blogs have their own unique tactics of generating revenue that you are trying to apply in your blog all at once. Frustration is the next step for each one of you while most of you are about to abandon both blogging and internet marketing believing its so hard to make money out of it when its not.
Makis.TV will try to stick with simple guides and examples for making money online(you'll be amazed by the tons of ways you can achieve this), whatever works for me I m going to make a post out of it so that you can benefit and get some inspiration for your own blogs.
Follow my posts and try to read between the lines in order to find out ways to generate revenue yourself.
Ultimate goal is to make you feel independent so that you can start brainstorming your own ideas and why not try to help others as well.
Subscribe with Makis.TV and receive latest blog posts as they happen!