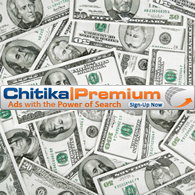 URL: Chitika.com
Brief desription about service and company behind it:
Chitika was founded in 2003 is a full-service on-line advertising network that is currently serving over 3 billion monthly impressions across more than 100,000 websites. They can either serve ads to publishers or publish ads for advertisers.
 Any required specifications to be accepted into their program:
In order to be accepted into their network your website should NOT have anything to do with the following:
* Adult content.
* Sexual content.
* Excessive profanity.
* Illegal drugs or related content.
* Hate speech or hate graphics content.
* Website under construction.
* Engage in illegal acts.
Registration process:
You can register with Chitika by visiting this link, fill in details in the registration form such as username, website and email. Right after you are going to receive a confirmation email that you must open and click link inside that will redirect you to the welcome page of Chitika. When done you must wait for Chitika approval which usually takes no more than a few minutes.
Advertise and revenue features, how they let you use their service and make money from it:
Bidvertiser asks you to display text ads inside your website and let advertisers bid against each other for the ad spot, highest bidder wins.
Ads display info:
* Option to choose Reporting Category with Channel and Username.
* Search Targeted Ads, Search Keyword Targeted Ads for YOUR Search Traffic.
* Mobile Ads, Pay-Per-Call Ads for YOUR Mobile Traffic.
* Local Ads, Relevant Local Ads for YOUR Local Traffic.
* They support custom width ads trough their Get a List Unit feature from which you can define the width of your ad depending on your website free space for advertisement ensuring no ugly white-space and thusly a clean user experience.
* Various Ad formats such as 550×250, 500×250, 728×90(Leaderboard), 120×600(Skyscraper), 160×600(Wide Skyscraper)468×250, 468×180(Blog Banner), 468×120(Blog Banner), 468×90(Small Blog Banner), 468×60(Mini Blog Banner), 550×120(Content Banner), 550×90(Content Banner), 450×90(Small Content Banner), 430×90(Small Content Banner), 400×90(Small Content Banner), 300×250(Rectangle), 300×150(Rectangle, Wide), 300×125(Mini Rectangle, Wide), 300×70(Mini Rectangle, Wide), 250×250(Square), 200×200(Small Square), 160×160(Small Square), 336×280(Rectangle), 336×160(Rectangle, Wide), 334×100(Small Rectangle, Wide), 180×300(Small Rectangle, Tall), 180×150(Small Rectangle).
* Various of Ad Types such as Multi-Purpose Unit, Map Unit(Available only in certain Ad Formats), Mobile Units(Available only in certain Ad Formats and do not support fallbacks).
* Various Fallback options(for Multi-Purpose and Map Unit Ad types) such as Collapse, Show an Alternate Ad, Show Chitika Backfill.
* They also support showing ads on Blogger accounts.
* Keep in mind that you can server Chitika ads along with Adsense as long as they dont look like each other.
Payment process and any tax identification requirements for people living in the US or outside:
Chitika charges advertisers to be featured alongside your site's content. At the end of every month they pay you based on the previous month's earnings (Net 30). Payments are sent after your account earns at least $10.00 (USD) for PayPal payouts or $50.00 (USD) for checks.