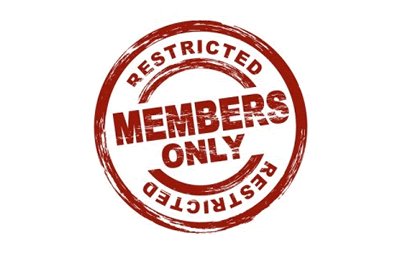 Millions of people around the globe own their own WordPress blog or website and continually post content on that blog for free. Most will never make a single cent from all of their hard work though, since they may not know how to properly monetize their website. Those who do make some money will often tell you that it is just a few dollars or pennies, and they simply do it just for the fun of it. While that may sound all warn and fuzzy on the outside, deep down, people want to make money however they can. If you own a website or a blog and you are not making money, you are probably asking yourself why?
Most people are centered on one way of making money online with their sites, and that is through display advertising. Yes, money can be made this way, but you will need a large amount of traffic before you start to see any kind of decent money. So how else can you make money? How about charging for that content that have poured hours of work into? Or, if you don't want to charge, how about the ability to engage them in the future through email marketing?
Incorporating a subscription model into your site could raise you lots of money fast, plus give you a recurring monthly income from your subscribers. Even if you don't want to charge people, having them register for your site allows you to market products to them effectively through email marketing. But how do you set that up for a WP blog or website? Here are 6 amazing plugins that you can use to effectively manage your premium content.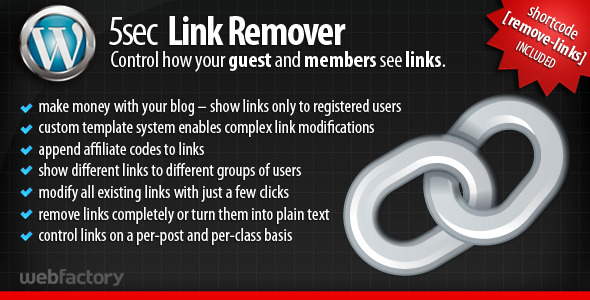 This is a simple but effective plugin that you can use in order to hide your premium content from guests.
Basically, this will allow you to control which links people see and also where your links point to as well. It even has a function that can point all your links to one outgoing link, or a gateway link, in order for you to track your outgoing clicks as well. This will give you a better understanding of what people truly find valuable on your website.
Anyone can use this plugin, as it is extremely easy to install. You simply upload it like you would any other WP plugin and then go to the Settings area to configure all the options that 5 Sec Link Remover offers. The user interface is very user-friendly, as it is just a page with all the options that you have available to you. The best thing to do with the plugin option page is to play around for a bit until you get it working just the way you want. If you would happen to get stuck, there is support from the author available, and upgrades are as easy as installing a new plugin.
To sum it up, this will work if you want a quick, simple fix so that you can start making money today from your site or blog.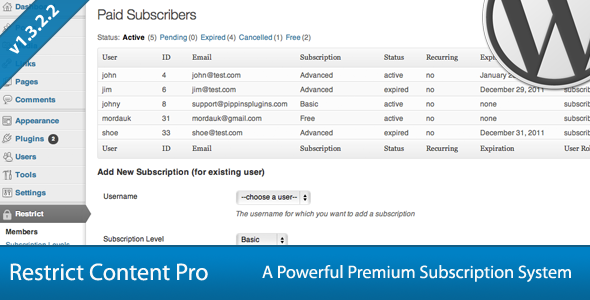 If you are looking to offer multiple subscription levels on your site, this is the plugin that you want to use.
You can create an unlimited amount of levels for your site, and even offer trials so that your visitors can test out your site before they ultimately try and buy. You then have the ability to mark the posts so you can control which level sees what you want them to see. That means you can easily continue to produce free content while releasing the golden information to only a select few members.
This plugin is setup through Paypal, making it easy to accept payments from the moment you set it up. For even further marketing purposes, you can even give out discount codes to people for a certain amount off their membership for the first month.
Once you install the plugin in WP, you then simply modify the posts and areas that you want certain members to see. Also, this will allow you to show a message to people not on a certain membership level that tells them how to view the content if they want to. In addition to simple option area, the Restrict Content Pro also has a sandbox testing mode with Paypal to simulate receiving real payments before launching.
Finally, if you are having problems configuring it or not having it behave the way you think, the author of the plugin offers a dedicated support forum just for this plugin. That is a great benefit many developers will overlook when making a plugin.
If you are looking for a step up from 5 Sec Link Remover, this is definitely a solid option for you.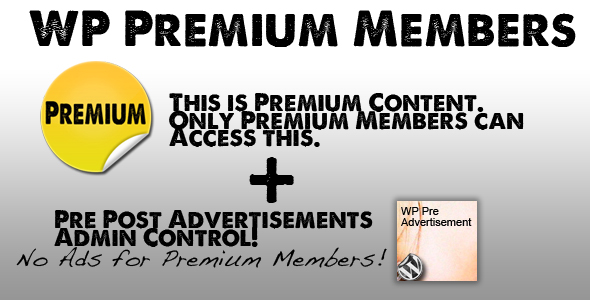 With this plugin, you again will be able to restrict the content that you show to your visitors. However, you can only set up one premium level, which is still good for most people who are starting out.
In addition to restricting content, this plugin comes with an extra revenue creator. For those who are not premium members, it will show them a full page ad for an amount of time you choose before they view the content. This is great for two reasons. First, you can sell more advertising space, making you more money. Second, it encourages people to become premium members by offering to remove the ad for paying or registered members.
This is very simple to setup, as all you need to do is configure a few options and add your Paypal to get it running properly. You then decide which content is premium, set up a message to advertise the premium content and then get ads for the pre-post advertisement that visitors will see.
Support is limited to asking the questions to the author only through the purchase area, though install is extremely easy.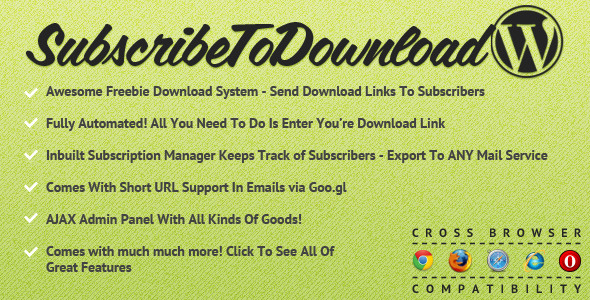 We are now taking a bit of a turn with this great plugin that is fun, easy-to-use and guaranteed to build you a very big email list if done properly.
This plugin focuses on you getting something from your blog while allowing your visitors to still enjoy the content for free. Subscribe To Download works great with stuff that people download, such as wallpapers, ebooks, icons, avatars and much more. In order to get their free download on your site, the visitor must first enter and confirm their email. Once they subscribe to your email list, they can download the content and everyone is now happy. You can then start to market other services to your list in the future to make money off your free site!
Installation is quick and painless with this plugin. You simply need to setup a message to your visitors that you want them to see about the free content, include the product you want them to download and enter the email to use. Finally, you then input a shortcode into a post so that people can start to request an email to download your product. Very fast setup and you can start to grow your subscribers immediately.
The author of the plugin offers a guide and documentation on how to use this and can be reached via a contact form if problems should arise. Great software for those that are looking for something a little different on their site.

This is one of the best subscription products that are available for the WP platform, and is very similar to the Restrict Content Pro plugin.
This one also offers unlimited levels of membership, and you can charge your customers either monthly or just a one-time payment, whichever fits the model that you think will work the best. Again, this plugin will restrict the content that you will be showing to your visitors, allowing you to make more money and control what you give away for free. A nice feature that is included is an IP security tool, making it impossible for two people to share a membership.
The admin area of this plugin is very user-friendly and allows you to monitor all memberships that are currently active and inactive on the site. The area also allows you to easily edit and add how you want to show premium content to your users. This is an essential part of the program, as you need to have full control over everything that you want your visitors to see, since that ultimately is the reason why people will pay you for the premium content. Just answer a few questions and edit some options and you will be up and running with this premium content manager.
Documentation and a guide are included to help with the setup of the program, as well as a comment area so that you can ask the author if you are having problems with the plugin. Also, you can see past questions to see if you have a similar problem as someone else so that you can troubleshoot on your own as well. The author also is available through email if needed.
If you are looking for the full package with added security functions, this is the way to go. You may pay a little more, but it does truly offer all that you need in order to run a great membership site.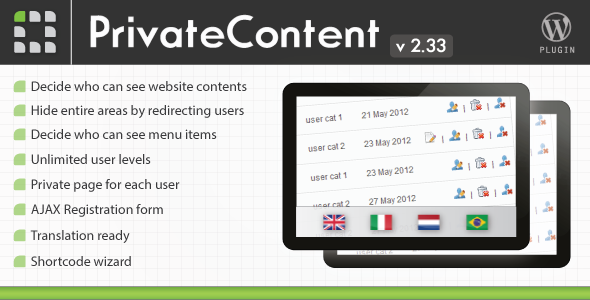 If you don't need the full power of the WordPress Premium Content or Restrict Content Pro but still want to offer multiple membership levels, this is a great one to use.
You are able to create as many levels as you want with this plugin to help restrict content as you see fit. Also, the plugin comes with many other nice features, such as a form builder for your registration page and the ability to convert entire areas of your site into private areas. This is great for hiding really good content and giving your site a sense of mystique in hopes that people will want to know what else is on the inside. To top it all off, this plugin offers multiple language translations, making it adaptable to most people around the globe.
Private Content offers amazing installation help, as they have very thorough walk-through videos on how to setup multiple options on your site. Just like the other plugins, they offer an admin area that is very functional and allows you to be able to manage all of your current members. Also, it gives you the ability to be able to disable members, but not delete them if they would choose to have an account in the future. Finally, the plugin gives you the ability to export your user base to Excel or in a CSV format if you would need to use a 3rd party mailing software.
For the value, you get a ton of features with this plugin. This plugin would be great for most people who are looking to save a few dollars but still need the functionality of a solid membership plugin. Be sure to give this some serious thought as most are happy with the results they see from this one.