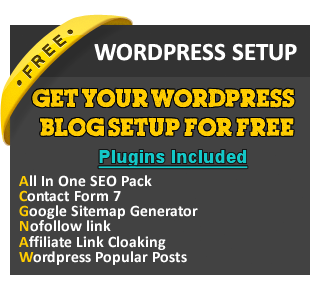 After offering a WordPress for free back in July of 2010 for a limited time I feel that timing is just right to repeat that offer on a permanent basis!!!!
If you have a domain waiting to be developed then WordPress is the most affordable solution(in fact its for FREE!!!) while its user friendly and has the credibility of the MOST used CMS out there.
Since many of you guys aren't so savvy setting up a WordPress blog or just don't have enough spare time to start learning all about WordPress you can take advantage of my offer and ask for a free WP setup.
To keep this offer running for ever I'll have to ask users to select our hosting partner for their hosting account, HOSTGATOR has been carefully selected to be our hosting solution for most of my clients using WordPress since it offers a great service, 24×7 support while it costs just $3.96 per month(using Hatchling Plan). If you order your Hostgator hosting package using links mentioned here then my gain will be a referral fee from Hostgator while you don't have to pay me a single cent.

If you want to save some $9.94 off the package price then use coupon: "makistvcoupon" and HostGator will deduct this amount for your first payment.
If you already have a hosting account then I m just asking you to create a link back to this page on your about page or an article that will describe in a few words my services other alternatives are FB likes or shares and ReTweets so that others can enjoy this free offer.
Your WordPress website will have the following plugins installed and configured for free:
All In One SEO Pack. This plugin is very useful for creating SEO urls and titles for your WP blog posts and pages.
Contact Form 7. This plugin creates a contact form page for your blog.
Google Sitemap Generator. This is a MUST plugin in order to create sitemaps for your blog that will later add to Google and Bing sitemap service.
Nofollow link. This plugin lets you Add NoFollow attribute to any links in your post on the go.
Affiliate Link Cloaking. This plugin lets you cloak any external urls in order to show more user friendly to your visitors while you can hide you affiliate id's if any.
WordPress Popular Posts. This plugin showcases your most popular posts to your visitors on your blog's sidebar.
You can choose any free WP theme you want, here are some of the 25 of the best free wordpress themes to choose from.