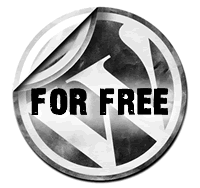 Since I have lots of free time and energy too I 've decided to created a limited offer for getting your own WordPress blog website, for free. While this service its free, development quality and plugin variety will have high standards equal, if not higher, to any other blog development services you can find in the web.
Below I m going to mention WordPress Plugins that are going to be used, carefully chosen to make your Blog Website ready to run and monetize from day one it goes live.
Akismet plugin for preventing spam comments
WP-PageNavi plugin, this plugin adds a more advanced paging navigation to
your WordPress blog
SocioFluid plugin, inserts image buttons that let your visitors submit
any of your posts in major Social Bookmarking websites like twitter, facebook, myspace, digg, stumbleupon.
All in One SEO Pack plugin
Contact Form plugin
Sitemap plugin
Choose your favorite free or commercial template and we are going to start building your WordPress website right away.
You can take advantage this offer right away but if you are kind enough you can create a webhosting account with HOSTGATOR using our affiliate link in case you dont have a hosting account yet:



Our favorite hosting plan is the Hatchling Plan starting at $3.96 per month.
Using coupon "makistvcoupon" you can save $9.94 off the package price