Are you looking to boost your productivity and maximize you revenue as a Freelancer?
Top WordPress Plugins for Freelancers
Freelancing can be your dream job but this won't happen overnight, you must must give your potential clients the chance to read more about your job skills.
A great, affordable and scalable way to build your own portfolio website would be WordPress, if you aren't familiar with installing a CMS like WP then I suggest you follow my 12 Minute Guide for Creating your own WordPress Website or ask me to Setup your Freelance WordPress Website for Free.
 If you already have a WordPress website running then I suggest to install the following Top WordPress Plugins for Freelancers that will help you organize your projects and save time and money down the road.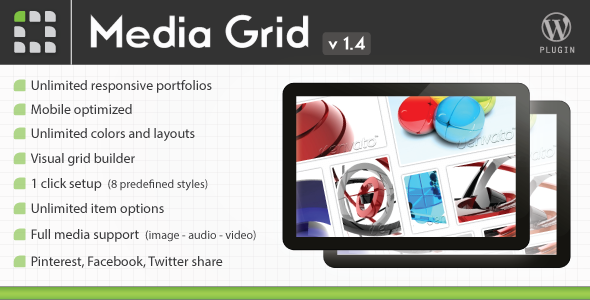 Creating image portfolios on a WordPress blog can be tedious if you're simply inserting images and trying to arrange them. What could take endless hours to do manually can now be completed effortlessly with Media Grid. This plugin allows you to create customized portfolios that are not only beautiful, but also responsive at the same time. Portfolio creation for WordPress has never been so simple.
With the plugin installed you can select various elements of your website to be displayed in the gallery. You can customize frame size and placement, image filtering, image content type, spacer size and type, and more. You can even integrate social media buttons that let your readers share your portfolio on FaceBook or Twitter.
Perhaps the most attractive feature of the plugin for freelancers is the fact that you don't have to spend a whole lot of time configuring if you don't want to. Media Grid plugin comes with pre-formatted layouts and a handy wizard tool to get your portfolio up and running in no time. And if you want to configure it yourself, it's very easy to learn. You need this plugin if you use portfolios and galleries on your WordPress site.

Posting an online resume as part of personal or business blog is one of the new ways people are getting themselves out into the job market. An online resume makes it easy for companies and headhunters to find the skilled workers they're looking for. Why? Because, unlike resume posting websites, your personal or business blog can associate specific keywords to your name. This makes you much easier to find.
The WP Resume plugin for WordPress makes managing your online resume a snap. If you're already familiar with creating WordPress posts you'll be familiar with posting your resume online. The plugin makes editing as simple as can be with a WYSIWYG interface, drag and drop ordering of contents, and automatic integration into your current WordPress theme.
For freelancers, the plugin makes a great way for you to add resume writing to your list of services. With administrative access to your client's blog you can post the original resume and make edits later on. And if you're using a portfolio building plugin, you can add each resume you build as long as you have the owner's permission. WP Resume is a must-have for any freelancer offering resume writing services.

Any freelancer or business owner with a WordPress site can benefit from the WP Invoice plugin. This plugin was released some time ago, but the latest version is the best one yet. It takes advantage of your built-in WordPress database in order to create, manage, and send your invoices. And since you already spend most of your time online as a developer, having invoicing capability built into your website means you'll spend less time dealing with billing issues off-line.
When you create an invoice the plugin sends an e-mail to your client informing him it was issued. The client can click on a link, see the invoice, then follow a second link to pay online. WP Invoice allows for credit card processing through PayPal, Authorize.net, or MerchantPlus' NaviGate. Clients who already have PayPal accounts can make payment directly from their existing balances.
WP Invoice 3.08 features a brand-new user interface, importing of existing invoices, splits and partial payments, recurring billing, invoice customization on a per-client basis, and much more. Once you get it set up you'll be amazed at how much work it saves you in the invoicing and billing department.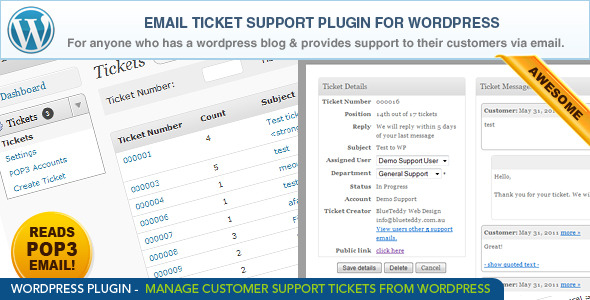 Developers who support their clients via e-mail will find the WordPress Email Ticket Support plugin a very useful tool. The plugin takes the concept of e-mail support and streamlines it by giving clients direct access to the developer in a way that ensures a ticket will be dealt with in a timely manner. Rather than simply relying on back-and-forth e-mail communications, the plugin provides a full support system to keep both client and developer on the same page.
With WordPress Email Ticket Support your clients can send support requests right through your website. When a ticket is sent the client will be able to see where he is in the queue, approximately how long it will take before you respond, and the current status of his ticket. The plugin will even assign ticket numbers and associate them with individual users who have accounts on your site.
On the admin side of things quick navigation allows you to see how many total tickets you have and how many are still unread. In addition, there are lots of options for customizing the plugin for a support ticket system that's easiest for you to use.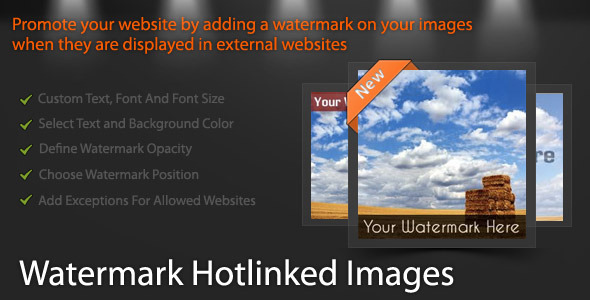 Have you ever wanted to "get even" with unscrupulous website developers who hotlink to your images? Well now you can. You can use them to provide free advertisement for your site by simply adding watermarks to any images they hotlink. You may not be getting a monthly check from them, but free advertising is the next best thing.
The plugin gives you full control over watermarking by allowing you to customize:
color and opacity
location of the watermark
text options including font size and color
exceptions for friendly sites
One of the nicest features of this plugin is the fact that watermarks will only appear on images that are hotlinked; viewers of your site won't see them at all. For websites that have your permission you can add a customized exception so their readers won't see them either.
Freelancers should find this plugin especially helpful when clients complain about images being hotlink. You'll be able to give them peace of mind knowing that the plugin is providing free advertising every time an image is hotlinked. You might even be able to use this as a selling point for new clients with limited advertising budgets.

Review | Screenshots | Download
Project management is critically important for any business that wants to succeed, but even more so for the web development freelancer who works alone. The Content Progress plugin provides some basic project management functionality by providing a way for you to flag individual pages and posts throughout your website.
For practical understanding, consider the web developer who creates multiple empty pages with various menus and headings before actually adding content. If he creates too many it becomes easy to forget at what stage each new post sits.
This plugin flags your posts as being empty, partially complete, or fully complete. It does so automatically by analyzing a post and its contents. However, it also allows you to manually flag posts in case the filtering doesn't suit your needs. You can even add custom notes if there's something specific you need to remember about a page or post.
Flags will appear on the right side of the page when you open up either "all posts" or "all pages." Scroll over the flag with your mouse to see custom notes or a customized status. Otherwise, you can tell the status of a post simply by the color of the flag.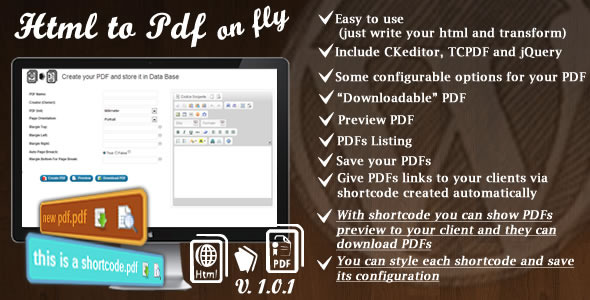 Review | Screenshots | Download
As a freelancer, this may be one plugin you don't realize you need until after you've used it. It is a tool that allows you to convert HTML into a PDF file that is stored in a folder on your website. These PDF files can be downloaded, previewed, sent to clients through links, printed, etc. And it's all done quickly and easily with a minimal amount of configuration.
Why would a freelancer want this plugin? As an example, consider a client who wants to take a paper copy of one of the blog posts on his site to a meeting or presentation.
If that client wants more than just text (i.e., he wants all of the graphics and the other visual elements of the page) he can certainly create an image from a screenshot, but such images use a lot of data resources and are sometimes hard to print on paper properly. Instead, you can create a PDF copy with a couple of mouse clicks. Send a link automatically generated by the plugin to your client, and he can then download and print the PDF at leisure.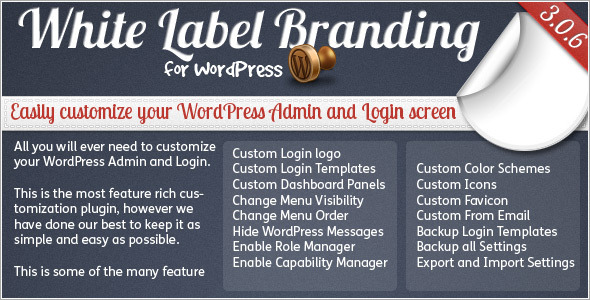 Review | Screenshots | Download
The issue of branding is always something freelancers struggle with when developing WordPress sites for clients. It could be that a theme developer doesn't allow certain branding elements to be changed; or they can be changed if you dig through the fine print. In either case, White Label Branding for WordPress solves those issues. With this plugin you will be able to decide how you want your Logos and menus to look. Furthermore, you can control access to the site and the various menus within it.
Do you need to give your client administrative access? You can create a fake admin account that allows access only to those portions of the site you want him to have. Any freelancer who has experienced a total site crashed due to a careless owner knows how important this feature is. You can even hide yourself from the list of users to prevent the client from finding out you've limited his access.
White Label Branding for WordPress is an inexpensive way to gain ultimate control over branding. It allows for public and private dashboards, custom titles, top level menus, individual layout designs, different color schemes, and so much more.